ghost Airdrop Bot Objectives
The GHOST Council and GHOST Community are responsible for governing and overseeing the GHOST native chain. The Council consists of up to 100 seats, 25 of which have already been allocated.
If you are interested in joining the GHOST Council, please contact the admins.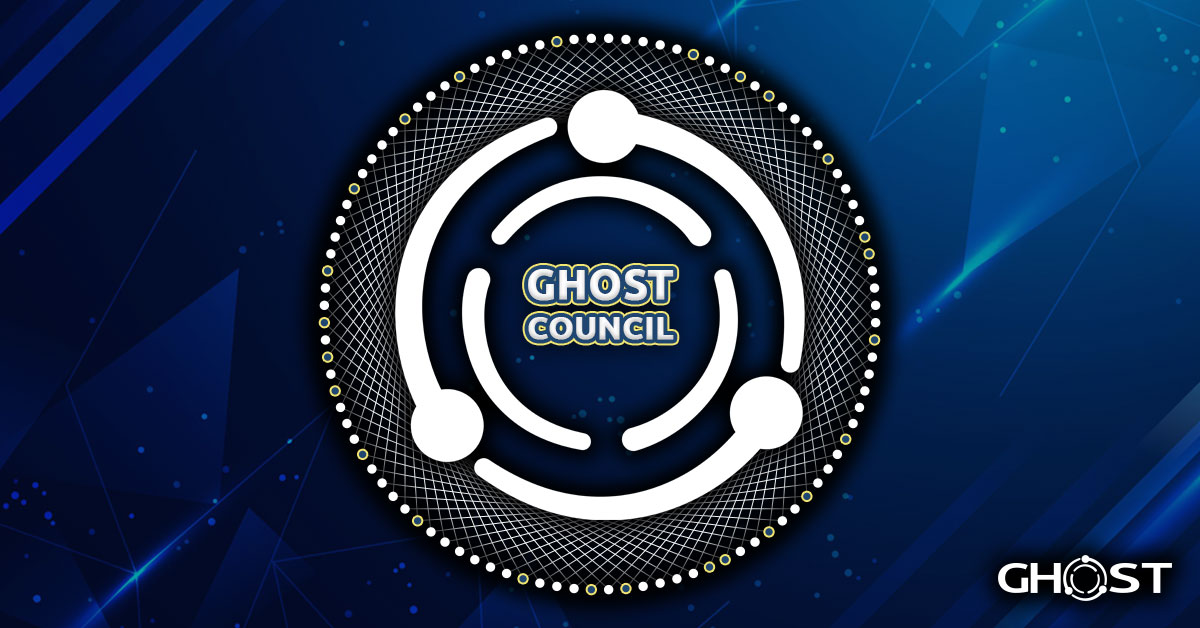 The target of the ghostAirdrop Bot is to distribute 5 GHOST Council Seats to the GHOST community.
To join the GHOST Council, follow these two steps:
Step 1 – Accumulate 250,000 GMV tokens
You can earn GMV tokens either individually or as part of a group. If you join as a group, you need to select a representative who will act on behalf of the group in the Council.
Step 2 – Get Approved by the GHOST Council
Introduce yourself to the GHOST Council and demonstrate how you can contribute to the network. GHOST is interested in expanding its network, improving marketing strategies, creating content, building the community, and more. There are many ways in which a GHOST Council member can help grow the GHOST Ecosystem.
UPGRADE 1 – GHOST Phases
To reach the GHOST Council, you must progress through 25 levels, with each group of five levels forming a phase. Additionally, every level and phase offers an enticing prize beyond the GMV rewards.
Unfortunately, we cannot disclose further details about these rewards at this time, but stay tuned for more information!
Phase
Level
GMV Balance Range
Phase 1 – Genius
Level 1

0 – 75

Level 2

76 – 227

Level 3

228 – 570

Level 4

571 – 1,199

Level 5

1,200 – 2,199

Phase 2 – Degen

Level 6

2,200 – 3,455

Level 7

3,456 – 5,011

Level 8

5,012 – 6,765

Level 9

6,766 – 8,795

Level 10

8,796 – 10,999

Phase 3 – Zombie

Level 11

11,000 – 13,742

Level 12

13,743 – 17,178

Level 13

17,179 – 21,473

Level 14

21,474 – 26,842

Level 15

26,843 – 33,999

Phase 4 – Skeleton

Level 16

34,000 – 41,942

Level 17

41,943 – 52,427

Level 18

52,428 – 65,534

Level 19

65,535 – 81,919

Level 20

81,920 – 99,999

Phase 5 – GHOST

Level 21

100,000 – 127,999

Level 22

128,000 – 159,999

Level 23

160,000 – 199,998

Level 24

199,999 – 249,999

Level 25
250,000 – INFINITY
Figure 2. Phase & Level Structure
UPGRADE 2 – Share2Earn
GHOST will be publishing tweets on a daily basis, and Ghosties who like and retweet each tweet will earn FREE GMV tokens.
To ensure that the ghostAirdrop Bot records your likes and retweets via the Twitter API, be sure to link your personal Twitter account URL to the ghostAirdrop Bot.
It's important to note that each tweet must be retweeted and liked separately. If multiple tweets are retweeted and liked at once, the Twitter API may not accurately process the data, and you may only receive a reward for one tweet.
UPGRADE 3 – Refer2Earn
With the new upgrade, referrers can earn even more GMV tokens. Simply bring new Ghosties to the ghostAirdrop Bot, and you'll receive an ever-increasing GMV reward for each referral.
| Total Referrals | FREE GMV per Referral |
| --- | --- |
| 1 – 10 | 1 |
| 11 – 100 | 2 |
| 101 – 1,000 | 3 |
| 1,000+ | 5 |
Figure 3. Referral GMV Rewards
The first 10 referrals bring 1 GMV per referral.
The first 100 referrals bring 2 GMV per referral.
The first 1,000 referrals bring 3 GMV per referral, after which the reward goes up to 5 GMV tokens per referral.
Full schedule is presented in Figure 3. Join ghostAirdrop Bot to start earning FREE GMV today.
UPGRADE 4 – Message2Earn
Ghosties can also earn GMV tokens by actively engaging and participating in the GHOST community.
How? Simply send messages, and GMV tokens will be automatically awarded to you based on a uniform distribution.
On average, for every 10 messages sent, you will earn 1 GMV token. For 20 messages, you can expect to earn 2 GMV tokens, and so on.
All you need to do is stay active and show your support for the community!
UPGRADE 5 – Play2Earn
The most thrilling and captivating upgrade to the ghostAirdrop Bot is undoubtedly the new rules for the Dice and Slot Machine games, which allow Ghosties to earn an uncorrelated number of GMV tokens. With a combination of strategy and luck, the potential rewards are limitless!
New Dice Rules
Earn the difference. You bet, it is amazing!
For example:
Ghostie throws 6, GHOST God responds with 1 => Ghostie wins 5 GMV.
Ghostie throws 4, GHOST God responds with 2 => Ghostie wins 2 GMV.
There are Special Cases too:
Double 6 => Ghostie wins 12 GMV.
Double 5 => Ghostie loses 5 GMV.
Double 4 => Ghostie loses 4 GMV.
Double 3 => Ghostie loses 3 GMV.
Double 2 => Ghostie loses 2 GMV.
Double 1 => Ghostie breakevens.
Amazing way to earn FREE GMV tokens!
To play the Dice game:
New Slot Machine Rules
While the Dice game is focused on earning GMV tokens, Slot Machine game is focused on earning multipliers!
The Slot Machine has 4 combinations per slot: 7, grape, lemon, and BAR. The following rules apply with corresponding multiplier rewards, which can be found in Figure 4.
Combination
GMV Reward
7–7–7
+60.00%
BAR–BAR–BAR

🍇-🍇-🍇

🍋-🍋-🍋

+18.00%
Pair in Any Order:

7–7

BAR–BAR

🍇-🍇

🍋-🍋

+7.00%
All slots are different
+0.00%
Figure 4. Slot Machine Rewards
Please note that there is a fee of 6.00% of your GMV balance to play the game. However, if your balance is lower than 8 GMV, the game is completely free to play!
To play the Slot Machine game:
UPGRADE 6 – NFTs…did we just say NFTs??
We have a sneak peek for you: in future posts, we will cover NFT-based rewards. We are currently working on NFT gamification and NFT 2.0 integration based on the level reached. We will provide more information on this exciting development soon, so stay tuned!
UPGRADE 7 – Revamped Architecture for ghostAirdrop Bot
The latest upgrade to the ghostAirdrop Bot features a completely revamped architecture that offers users a more seamless experience. With the updated architecture, connecting Twitter and MetaMask accounts is straightforward and effortless, while playing Dice and Slot Machine in the GHOST community has never been easier.
Stay tuned for the upcoming launch of ghostAirdrop Bot!
FINALLY. OPTIMAL PATH TO THE GHOST COUNCIL.
Daily:
Big Bonuses:
Earn exciting prizes by reaching new levels

Win GMV by throwing Dice and spinning Slot Machine, with unlimited potential rewards.
What is GHOST?
GHOST Ecosystem is at the forefront of decentralized cross-chain interoperability, providing the ability to transfer tokens, NFTs, and other digital assets across multiple blockchains.
ghostAirdrop | ghostAirdrop Bot
|
Medium
|
Telegram
|
Twitter
|
Website