Q2 2020: John McAfee Ditches Ghost Classic
John McAfee's Ghost project (coined as "Ghost Classic" in this article) was first announced in April 2020, with the release of a white paper outlining the project's goals of creating a decentralized and privacy-focused blockchain platform. At the time, the project generated a significant amount of buzz and interest in the cryptocurrency community.
However, just five months later, in September 2020, McAfee announced that he was abandoning the Ghost Classic project due to lack of progress and challenges surrounding the leading team ("Ghost Classic Dev Team"). This sudden announcement came as a surprise to many. The Ghost Classic project faced numerous challenges and failed to gain traction ever since.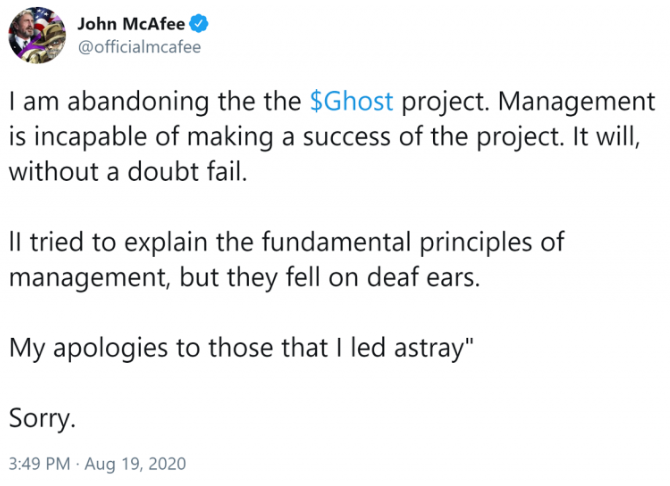 Q3 2020: GHOST Origins
McAfee's departure caused a schism in the Ghost Community. Being fully aware that the Ghost Classic project is standing on its last legs, the community decided to act. Top Ghost Classic coin holders representing more than 75 percent spinned off and launched GHOST. At the time John was evangelizing the concept of the world's first privacy stablecoin, GHOST-DAI. This is exactly what the GHOST team started working on immediately.
The idea behind GHOST-DAI was to combine a stablecoin with the anonymity and privacy features. By leveraging the power of smart contracts, GHOST-DAI would aim to provide a decentralized, untraceable, and fungible digital asset that can be used for a wide range of on-chain transactions.
One of the key decisions in the development of GHOST-DAI was the selection of DAI as the underlying stablecoin. This choice was made by John, who felt that DAI was the only decentralized stablecoin at the time with enough market adoption and liquidity to support project needs.
GHOST transformation began by sourcing out the best talent. Between September and October of 2020 a number of development teams had been interviewed to select the one for the job (coined as "GHOST Dev Team" in this article). The GHOST team started reaching out to John on a consistent basis to clarify the situation and seek advice. Seeing significant progress in the project's standing John brought back his endorsement.
Migration from Ghost Classic to GHOST had been rapid. Within a couple of weeks in November 2020 the majority of all coin holders (more than 75 percent) supported the move towards GHOST. 3 out of 3 Ghost Classic Councils fully supported GHOST direction as well. Communication between John and the GHOST team took place almost daily. Ghost Classic Dev Team positioned themselves as the ones vouching for decentralization, and it was expected that that the Ghost Classic Dev Team would pass on access to social media accounts to the GHOST team. GHOST team was under the impression that Ghost Classic Dev Team would follow their promises and give up their control over social media accounts.
It was at that time when John was detained by Spanish government officials. Despite seeming inability to communicate with the outside world, another public confirmation of John's support of GHOST came out in November 2020. At that point of time it was believed that no project spinoff was necessary.
The GHOST team was tirelessly working with the Ghost Classic community to win over the remaining minority. The GHOST team conducted a full audit of the existing Ghost Classic codebase which found numerous vulnerabilities and errors. A fifty-page audit report concluded that Ghost Classic core contained over 100 various critical vulnerabilities including complete centralization of the consensus mechanism due to a disconnect between block sealers and coin stakers (let alone manual distribution of PoS rewards to the coin stakers). The GHOST team even organized an AMA session with the leader of Ghost Classic Dev Team completely crushing the opponent on technical subject matters. GHOST team really wanted to save the legacy of John McAfee in Ghost Classic core by further offering a 1-to-1 swap provision in which 1 coin of Ghost Classic would be convertible to 1 coin of GHOST.
Unfortunately, the remaining Ghost Classic minority remained deaf to GHOST team's attempts to explain many problems of the Ghost Classic core blockchain solution. Despite promises of decentralization, PoS-based majority, John's support, and technical issues of Ghost Classic core, the Ghost Classic Dev Team refused to give up control over social media accounts in favor of the GHOST team.
GHOST departed from Ghost Classic for good, and GHOST Chain continued to emerge as a stand-alone project.
Q1 2021: GHOST Chain Development
Original GHOST Council was formed in Feb 2021. It included the top holders of the Ghost Classic coin and the GHOST Dev Team. Development efforts were officially launched in Mar 2021.
To design the GHOST-DAI solution preached by John, the biggest task was to anonymize DAI transactions on Ethereum. Initial blockchain architecture from December 2020 included building a substrate-based native GHOST chain to be interoperable with Ethereum via a decentralized bridge.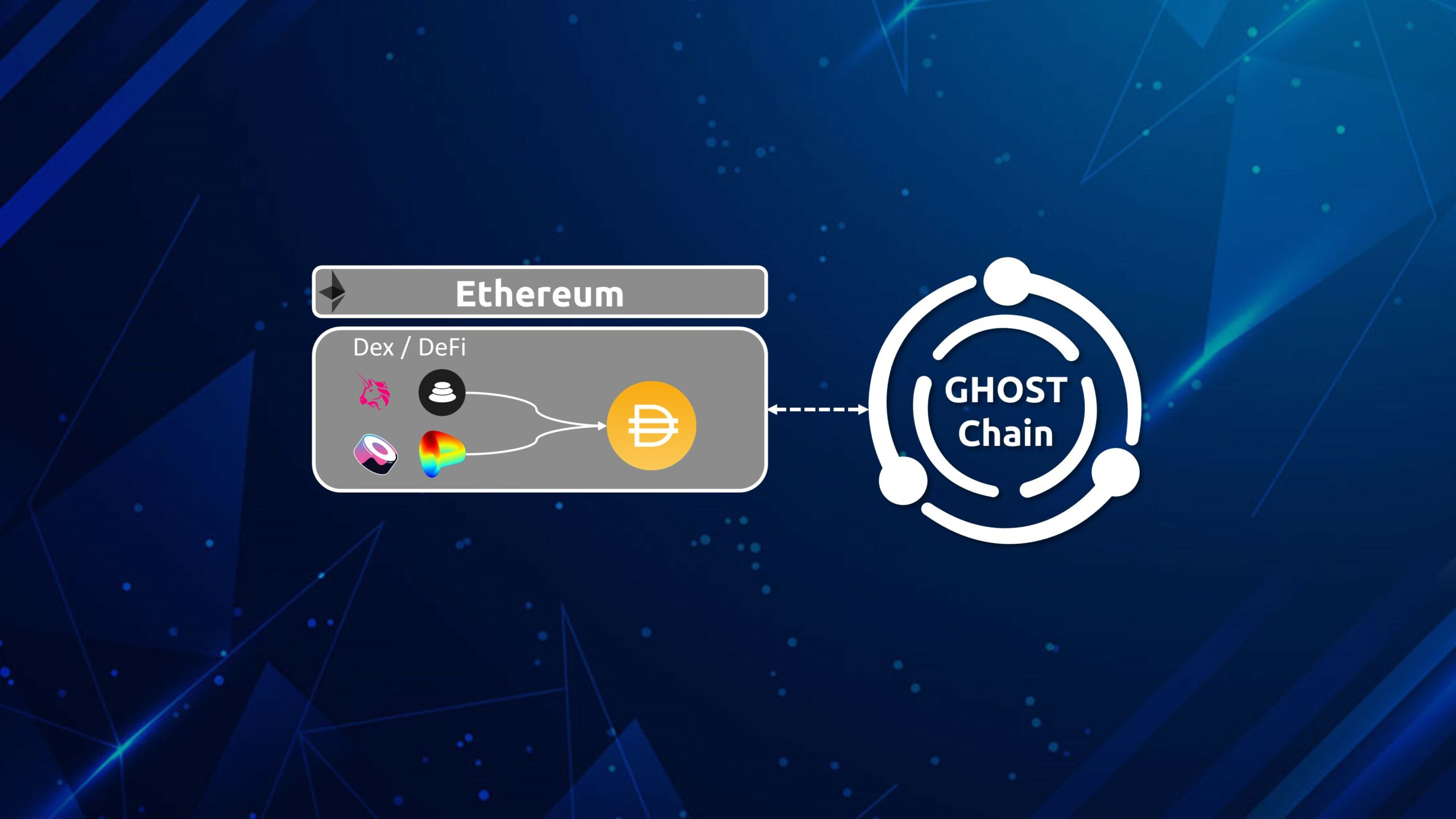 In GHOST-DAI Original design, Gatekeeper smart contract would be deployed on Ethereum. A user would send an intent to wrap DAI on Ethereum into gDAI on GHOST Chain. The Blind Council nominated by the General Council would save the hash of the intended transaction. The user would then proceed to wrapping their DAI to GHOST. If the Blind Council affirmed that the hash of the intended transaction and the hash of the actual transaction match, then gDAI would get minted into the User's wallet on GHOST Chain.
Given module-based architecture of substrate-based GHOST Chain it was decided to design a custom palette to make transactions private. It ended up being a custom-built Virtual Machine named ASTRAL-VM. ASTRAL-VM is an implementation of the Zether mechanism inside of the GHOST Chain.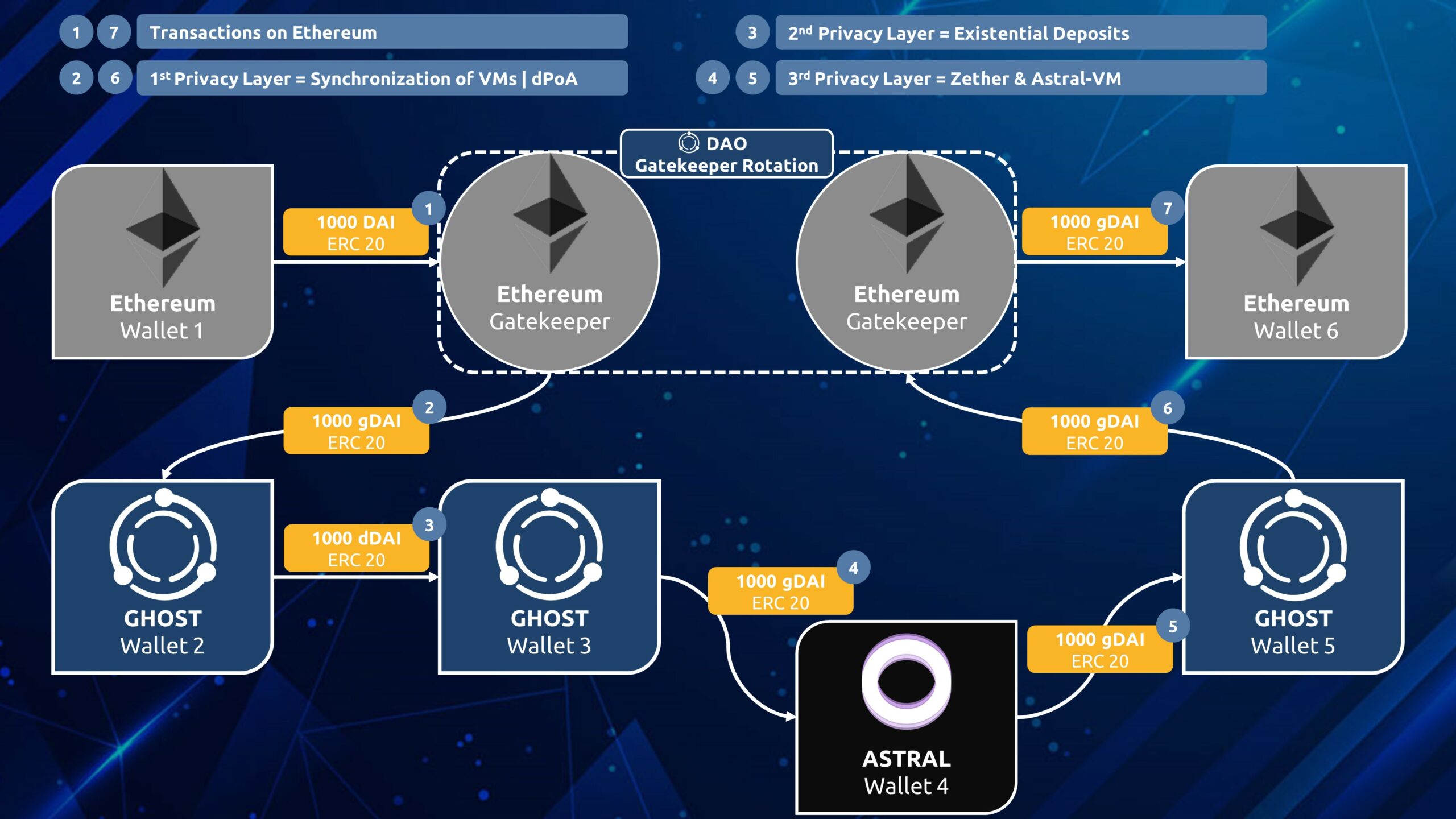 Thus, GHOST-DAI would have three privacy layers:
Synchronization of Virtual Machines
Existential Deposits
Zether & ASTRAL-VM
In the original architecture, the General Council would be responsible for nominating the Blind Council to listen to the Ethereum bridge. Given super flexible governance mechanisms empowered by Substrate, the General Council would have many tools to automate and add contingencies to the nomination and election process of the Blind Council whether singular or plural.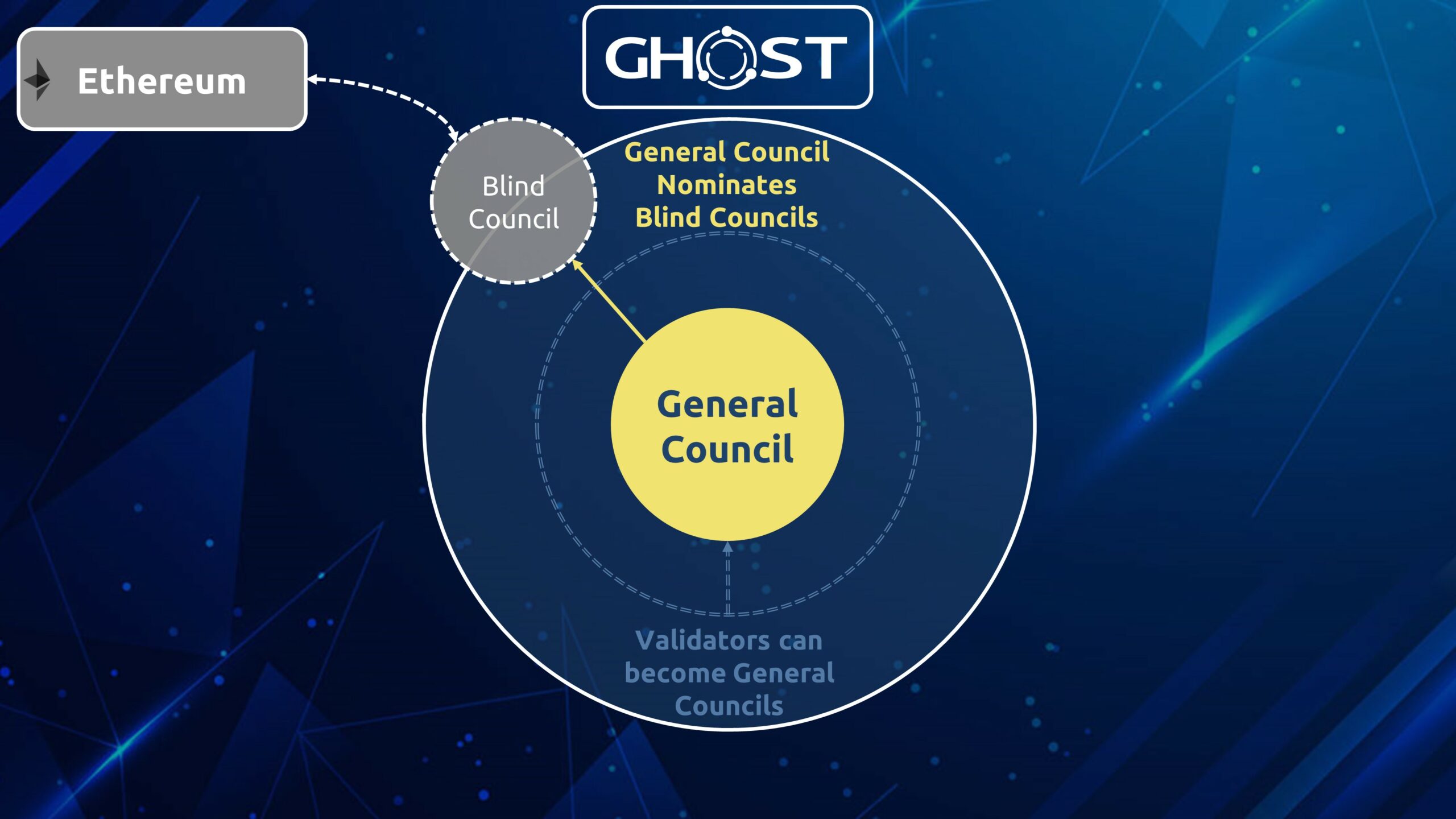 Please read GHOST Litepaper to learn more.
Q2 2021: GHOST Breakthrough
The alleged news about John passing away in Spanish prison in June 2021 inspired the GHOST team to bring even more creativity and accelerate execution. https://www.theguardian.com/us-news/2021/jun/23/john-mcafee-dead-spain-prison-extradition
As GHOST Chain underwent further development a couple of eureka moments came about. First of all, the GHOST team realized that there is not much difference between DAI and any other ERC-20 token as shown on Figure 4. Second realization was that decentralized bridging solutions built on Ethereum can be duplicated onto any other EVM-compatible chain such as BNB Chain, Polygon, and Avalanche as shown on Figure 5.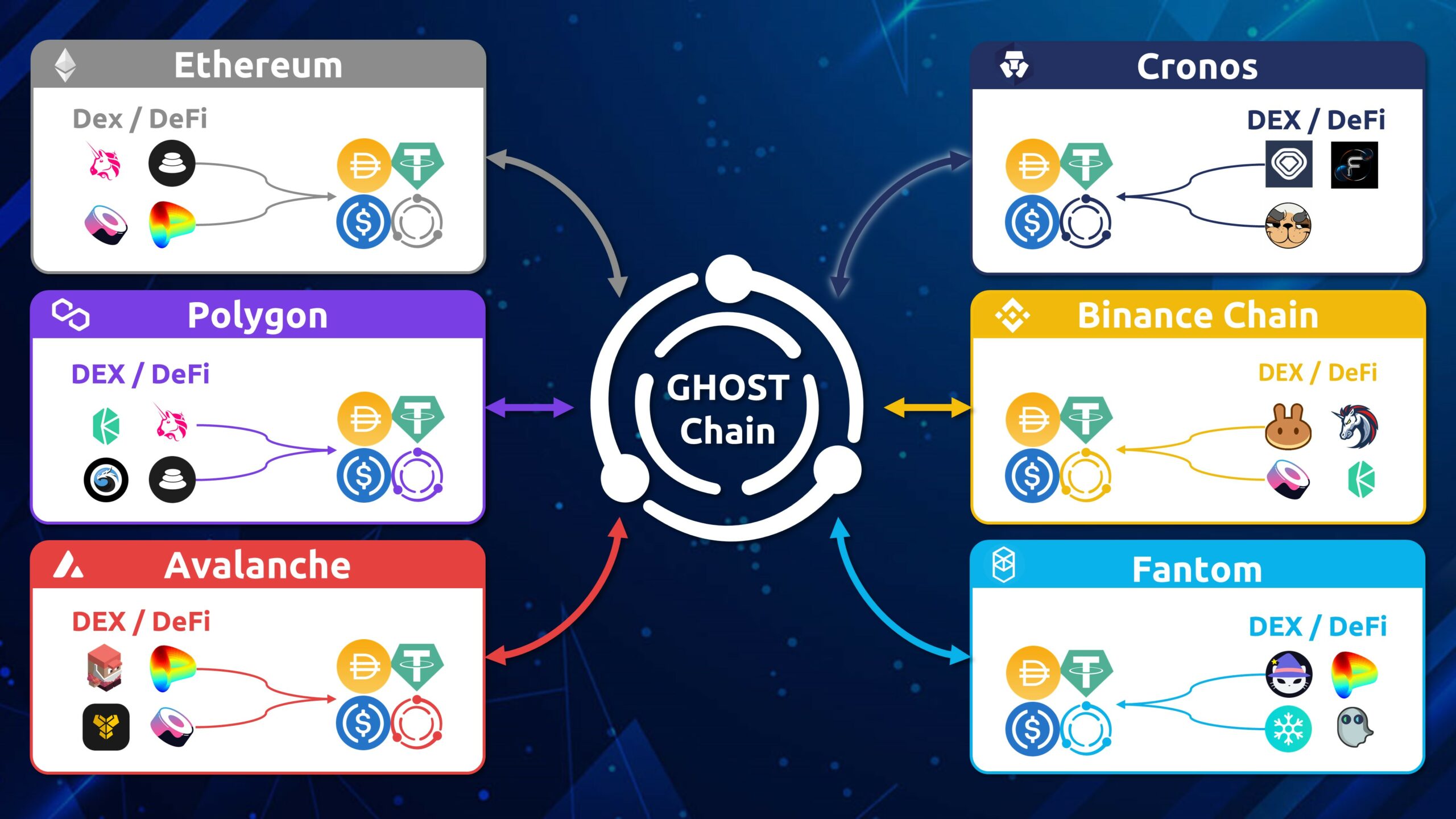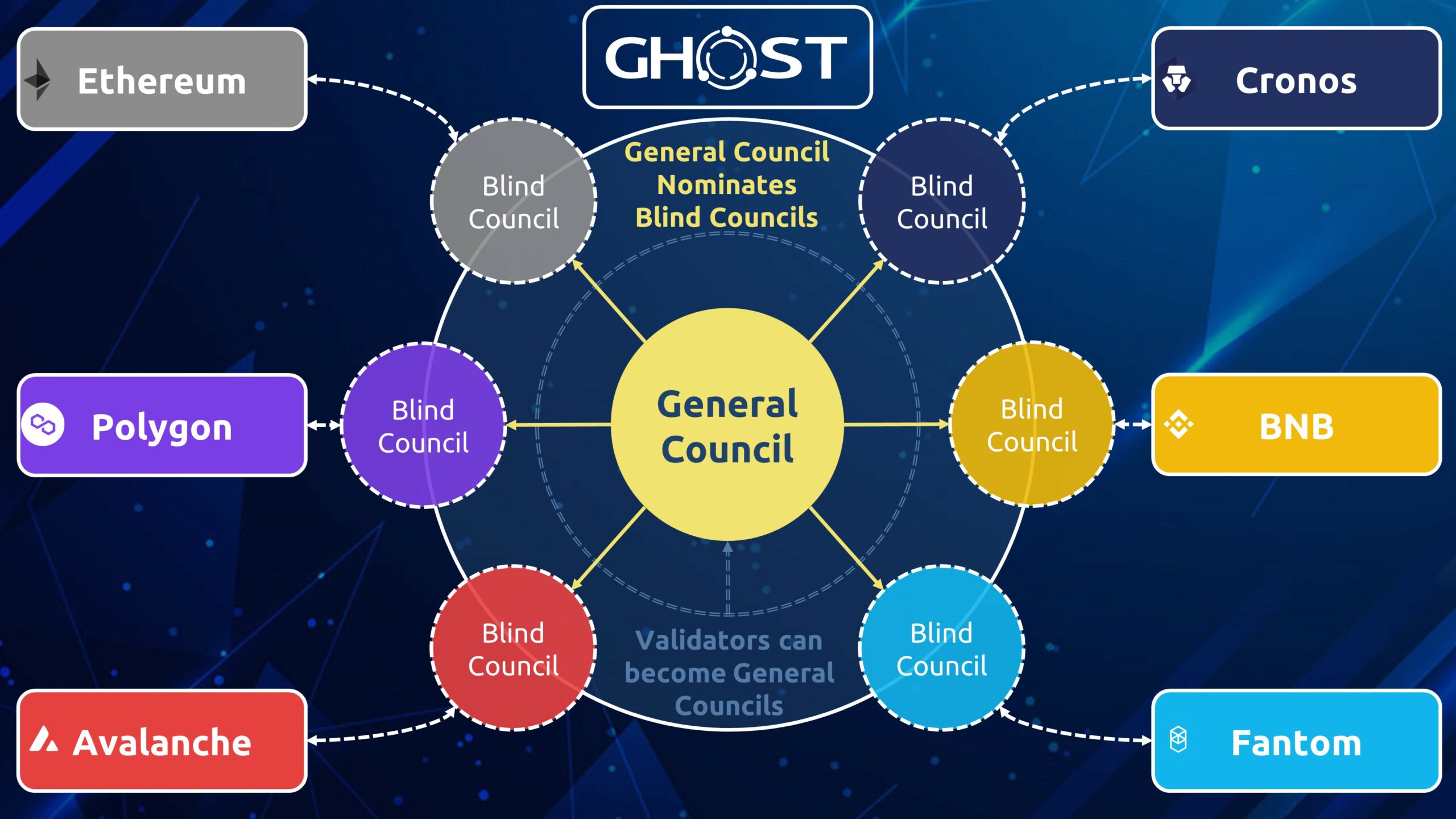 Q4 2021: GHOST Core Finalized
By September 2021, the team had completed the MVP for cross-chain interoperability via GHOST Chain, and by November 2021 the GHOST Chain core codebase had been finalized.
Q1/Q2 2022: ghostDAO
Cross-chain bridges must be both secure and liquid. While security has been resolved by integrating decentralized governance framework of the GHOST Chain, liquidity has been the second most important pillar to address.
The team had initially considered creating a DAICO, a hybrid of an ICO and a decentralized autonomous organization (DAO), but ultimately decided to proceed with ghostDAO.
ghostDAO is a decentralized cross-chain reserve currency powered by the DeFi 2.0 and managed by the DAO composed of GHST token holders on every blockchain. This means that ghostDAO is built on top of multiple blockchain networks with the goal to provide a seamless and secure way to store and transfer value.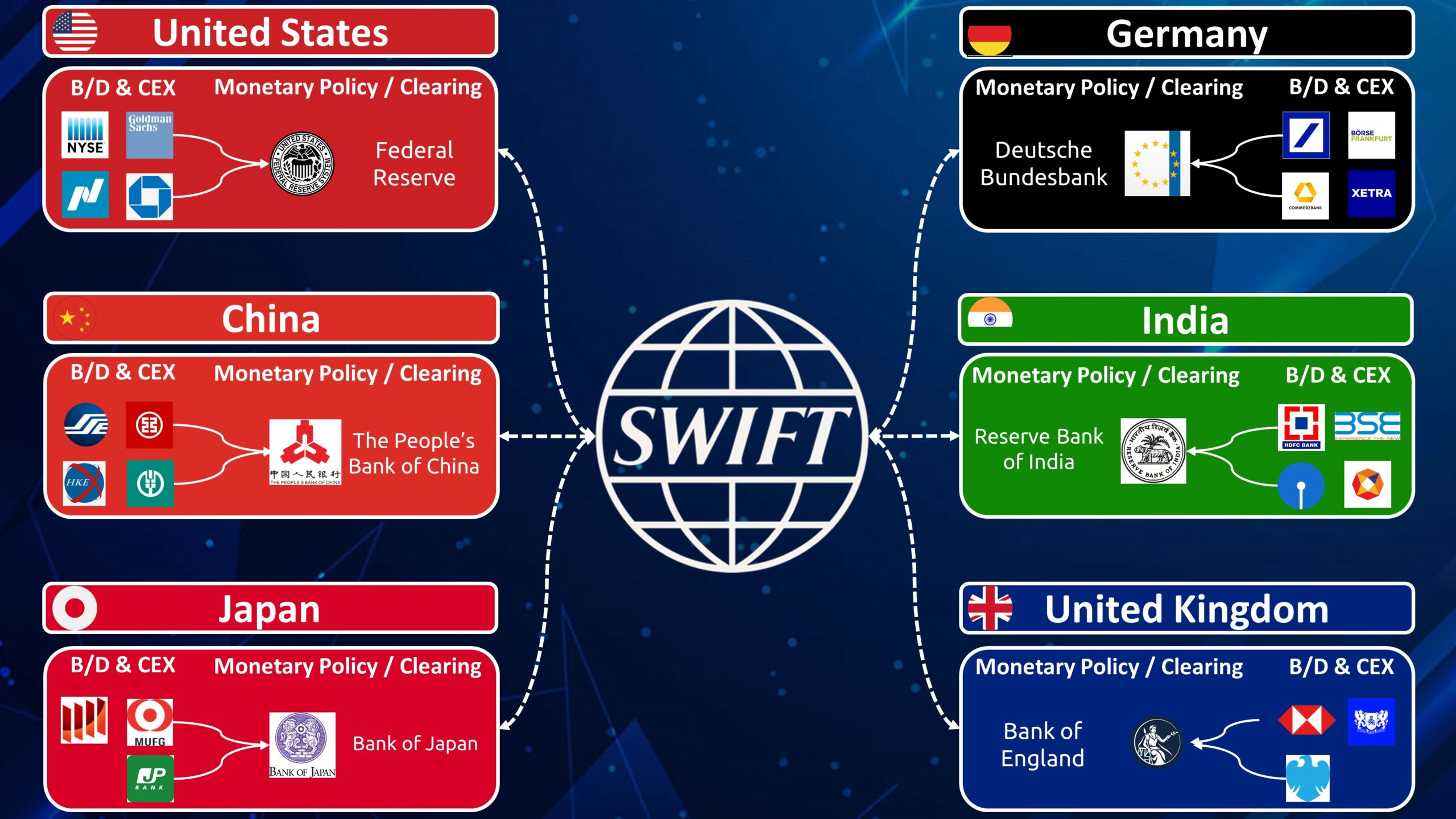 The ghostDAO DApp and GHOST Chain in Web 3.0, when combined, have the potential to replicate a modern financial system similar to the one composed of central banks and connected by the SWIFT messaging network, except for the fact that ghostDAO and GHOST will be managed in a decentralized fashion as opposed to the centralized management seen across global central banks. This means that the financial system created by ghostDAO and GHOST will be built on a decentralized blockchain infrastructure, giving users more control and transparency over their financial transactions and assets. Additionally, this infrastructure is more resilient to censorship and fraud, providing more security and stability to the Web 3.0 financial system of the future.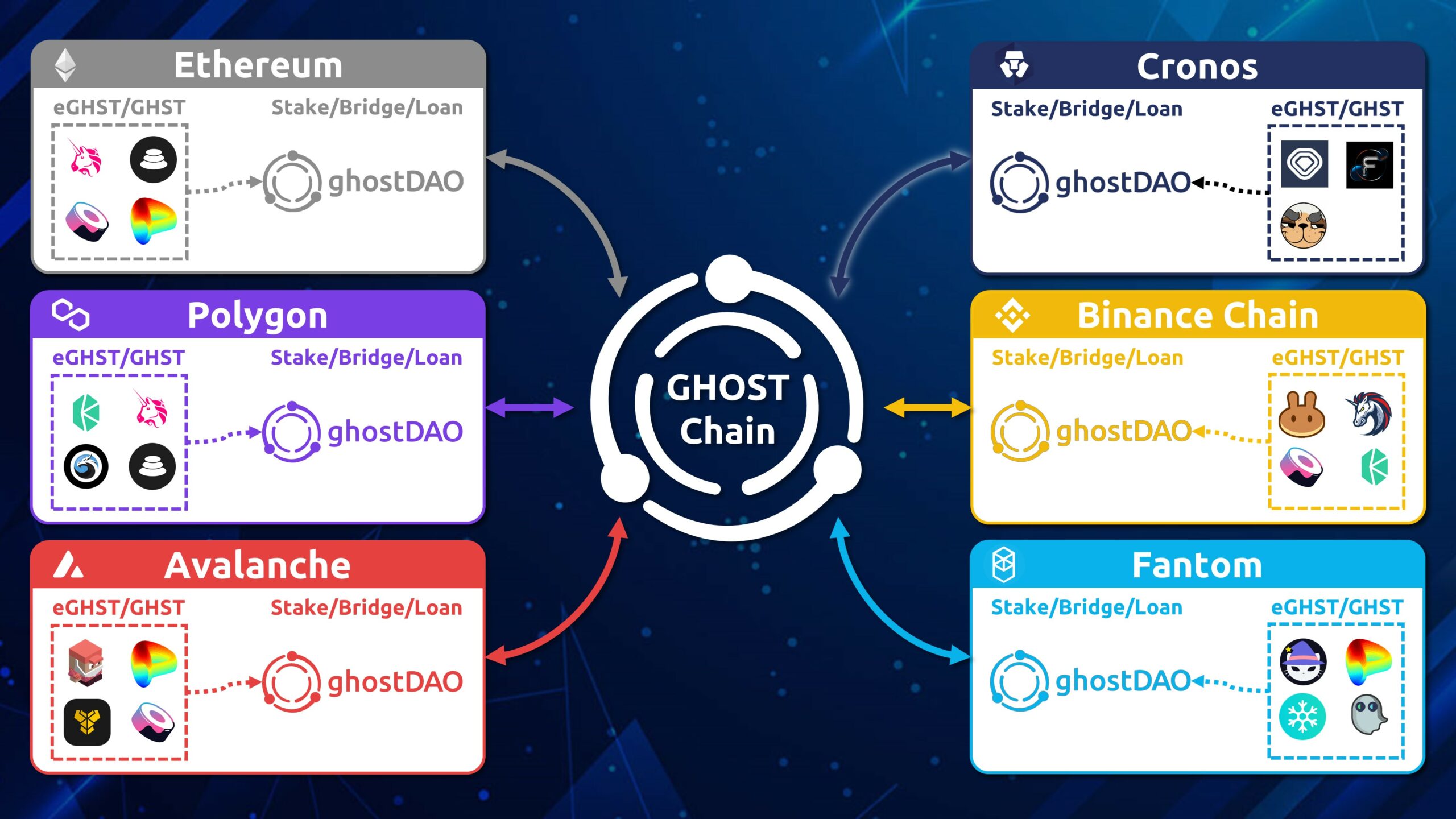 ghostDAO architecture was completed in Dec 2021, followed by deployment on Ethereum TestNet in Mar 2022.
Please read ghostDAO Litepaper to learn more.
Q2/Q4 2022: ghostNFT
Communication with Web 3.0 stakeholders regarding bringing liquidity to ghostDAO and GHOST Chain led to many interesting conversations with native chains, DApps, and NFT marketplaces.
In particular, it was evident that booming NFT markets became more and more silent. Despite massive publicity, an absolute majority of NFT collections failed to attract sufficient fundraising from their respective communities favoring few statistical outliers. GHOST team came up with the solution to revitalize NFT markets by marrying NFTs with DeFi thus extending ghostDAO protocol.
The new concept was coined as NFT 2.0 to enable additional gamification for NFT collections and bring more successful stories to the NFT space. ghostNFT brings collateralized NFTs with yield generating collateral utilizing DeFi 1.0 and DeFi 2.0 protocols. The new open-source standard behind collateralized NFTs (gNFT) brings new layers of NFT utility.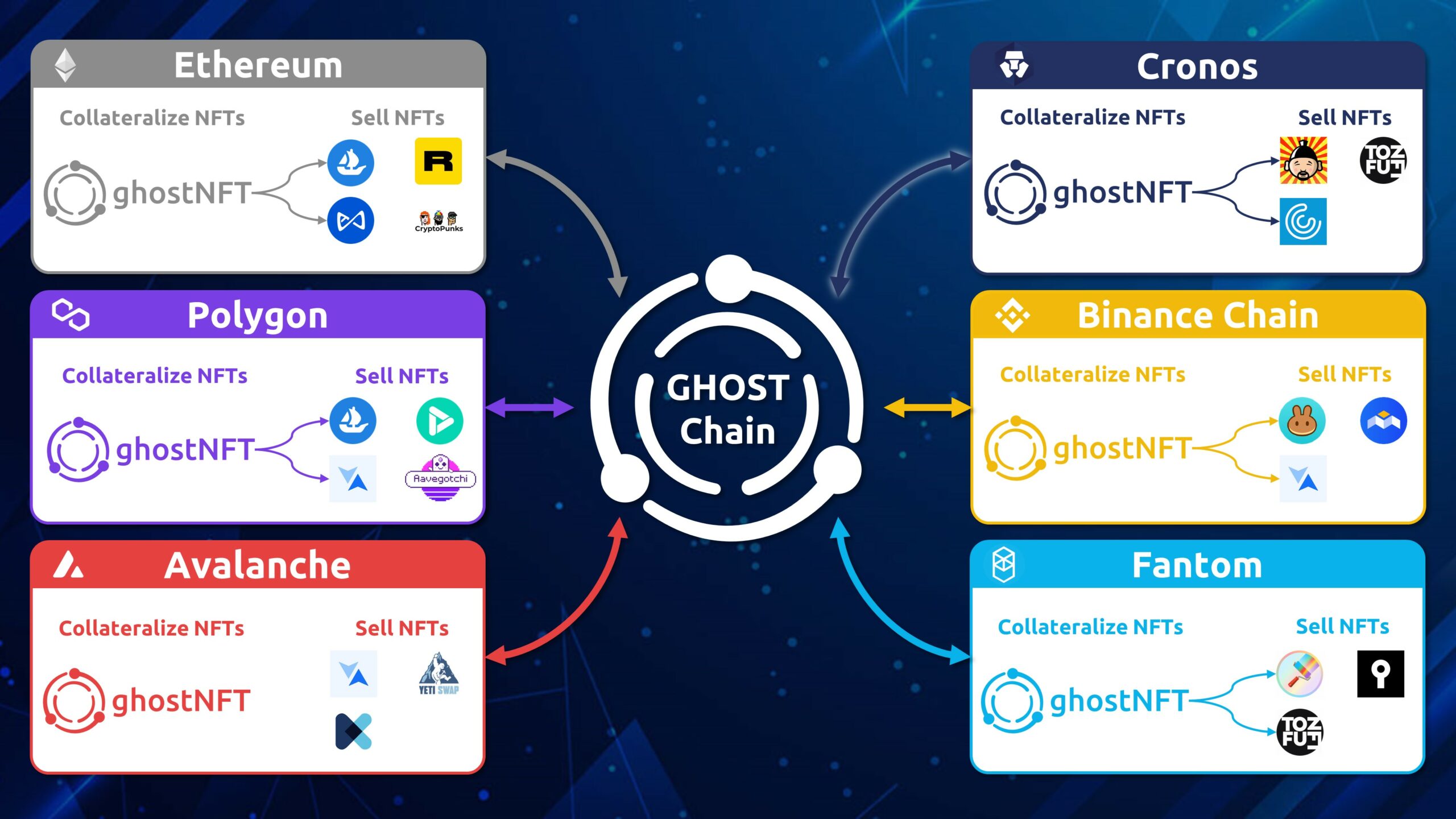 ghostNFT is going to be launched on 16 EVM-compatible blockchains. The list of blockchains is presented in alphabetical order:
Astar
Aurora
Avalanche
BNB Chain
Celo
Cronos
Ethereum
Ethereum Classic
Fantom
Fuse
Gnosis
Harmony
IoTex
Metis
Moonbeam
Polygon
Please read ghostNFT Litepaper to learn more.
Q4 2022/Q1 2023: ghostAirdrop & Legacy John McAfee Legacy NFT Collection
To maximize the chance of successful multi-chain launch of ghostNFT, GHOST Team went forward with ghostAirdrop. ghostAirdrop is the first 100% on-chain affiliate program built to incentivize users to bring their network to the GHOST Ecosystem.
ghostAirdrop is applied directly to the John McAfee Legacy NFT Collection built using DynamicPreset of the NFT 2.0 standard, enabling dynamic NFTs based on the amount of collateral committed by every individual user. NFT 2.0 enables the user to always control the custody of her NFT.
The first 10 projects to integrate on ghostNFT will receive free co-marketing and dev integration support. To learn more on everything GHOST join our community by clicking here.
Please read GHOST documentation to learn more.
Conclusion
Today, the original Ghost Classic project has been reborn into GHOST Ecosystem consisting of GHOST Chain, ghostDAO, ghostNFT, and ghostAirdrop with a renewed focus on delivering on the original John McAfee vision of creating a privacy-focused and decentralized Web 3.0 platform. Despite the challenges and setbacks faced by the project in its early days, the strong GHOST community and dedicated GHOST Dev Team have persevered and brought the project to where it is today.
What is ghostDAO?
ghostDAO is the future of interoperability and governance in web3. ghostDAO will allow anyone to transfer assets from one chain to another. The best part is that ghostDAO is chain and DApp agnostic.
ghostAirdrop | ghostAirdrop Bot
|
Litepaper
|
Medium
|
Telegram
|
Twitter
|
Website